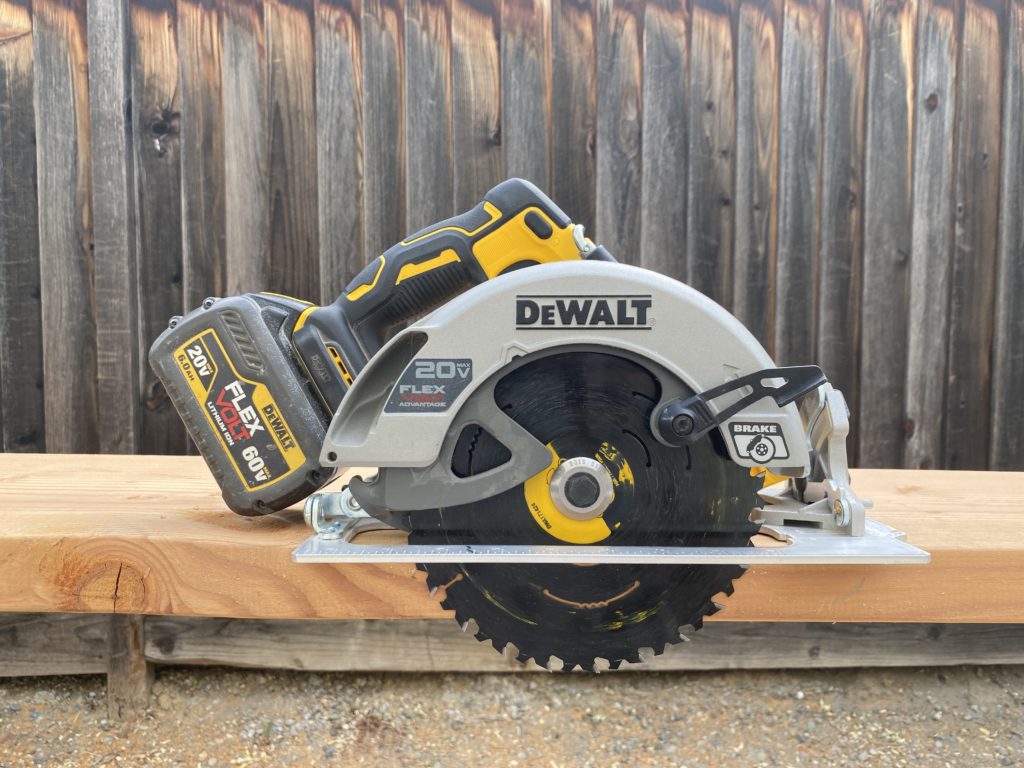 It was Flexvolt that got me to go all-in on DeWalt's battery platform. I had no problem not being able to use my 20V batteries on my new 60V tools because they needed more power and using 20 volts would defeat the whole purpose. Being able to use the 60V batteries on my 20V tools made the new system work perfectly.
But when DeWalt announced their new 20V Flexvolt Advantage tools could run on both 20 and 60V batteries I couldn't help feeling maybe my regular 60V Flexvolt tools were now Flexvolt dis-Advantage tools.
DeWalt says running the DCS573 Advantage saw on a 6 amp hr Flexvolt battery gives it up to 77% more power than using a 5 amp hr 20V battery. And in my testing I found that to be true.
I also found the Advantage is slower than the actual Flexvolt DCS578 on Flexvolt batteries, slower than the 6.5″ DCS565 on a 5amp 20V battery, and only as fast as the 6.5″ on a 6amp Flexvolt battery. See them side by side in this review.
So what do I think the DCS573 Advantage saw?
First, it's a dog on a 5 amp 20V. Maybe it runs faster on a 6 or 8 amp 20V but I'm not interested in carrying any 20V batteries larger than my go-to 5 amps unless they also run my 60V tools.
Second, I rarely run out of juice, but when I do it's the 60V batteries that come to the rescue, not the other way around. So the idea of running out of Flex power and needing a 20V to save the day doesn't resonate.
Third, I only need to carry a 6.5″ saw but if I were to carry a 7.25″ it wouldn't be a pretender to the throne. Of all the saws I've tested so far the 60V DCS578 is the King.
All that said, people have different reasons for what tools work best for them so I wouldn't be surprised if the Advantage saw was a better choice for some. For me it's a hard pass.