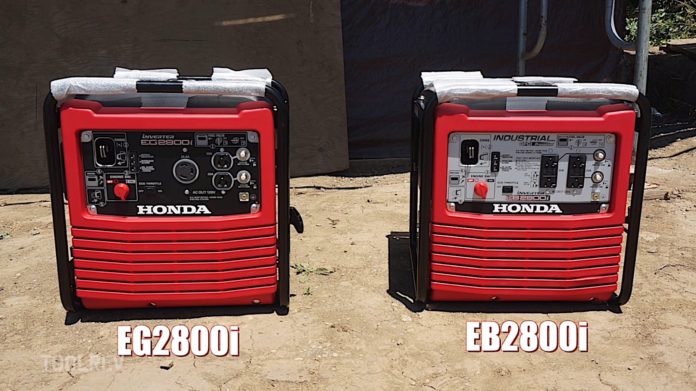 The Honda 2800 watt generator comes in two models: the black panel EG2800i and the silver panel EB2800i. The silver unit has four GFCI protected outlets, the GFCI making it OSHA job site compliant. The black unit has two outlets and a 30 amp plug, none of which are GFCI protected.
Honda 2800 Power
One interesting thing about the 2800 is it puts out 2500 running watts for the same MSRP as Honda's 2200 watt generator that only puts out 1800 running watts.
How much power do you need?
If you're wondering, a 2200 watt generator that puts out 1800 running watts can run one 15 amp tool, or one tool plus depending on the amps. But the extra 700 running and 600 starting watts of the 2800 is enough to run two tools plus. And with cordless tools taking over the job site, I'm seeing the 2800 replace louder, less portable generators.
Here is a link to a helpful wattage estimator from Honda covering home, work, and recreation. Although, I find some of the starting watt estimates to be over what's needed for modern tools. For example, they call out 2300 starting watts for a 7 1/4 circular saw, which is more than what's needed in my experience.
Weight
The Honda 2800 watt generator weighs 67 lbs. Filling up the 2.1 gallon gas tank brings the weight up to around 80 lbs. For me, this is still a portable weight. But the cube shape of the generator does make it an awkward lift.
Wheel Kit
Honda's wheel kit (sold separately) adds weight, but it gets the generator off the ground making it easier to load and unload. Unlike other Honda wheel kits, the arms on this one do not lock open, thus offering no leverage to walk the generator over obstacles. Moreover, the wheel kit comes with rear legs that catch on everything you try to pull it over. Eventually, I just cut the rear legs off, and it pulls much better now.
Honda 2800

Features
The black model has a fuel gauge, whereas silver does not. Both are inverter generators that are safe for sensitive electronics. There is an output indicator that doubles as a blink hour meter, registering 100 hour blocks up to 500 hours. And there's an oil indicator that shuts the engine off if the oil gets too low. Nice!
Neutral
The silver model has a bonded neutral. Meaning, if you want to power a building through a transfer switch there are a couple of caveats: either the transfer switch needs to be GFCI compatible or you need to un-bond the neutral from the generator frame.
The black model has a floating neutral. So if you want to use it with an inline GFCI switch you'll need to bond the neutral to ground at the panel. This can be done by plugging a neutral-ground bonding plug into any free receptacle.
The last difference is, only the black model accepts Honda's heater kit, which installs into the crank case breather tube. The heater is a coil that prevents icing and restriction of the generator's air supply in "certain cold weather conditions."
Run Time and Noise
This generator is rated at 5.1 hrs per tank running at full load and 12.1 hrs at 1/4 load. I'm averaging 6 -10 hours per tank running in echo mode. Echo mode lets the generator idle down to 1/4 speed until power is called for, which saves gas. It also reduces the noise level down to 62 dbs. At full throttle the generator pumps out 67 dbs making it Honda's loudest inverter generator.
Here is a link to an old Honda video comparing the sound of different generators. It's from before the 2800s came out but you might find it to helpful – https://youtu.be/Uae4l1lNuYc
Generator Maintenance
The maintenance schedule calls for an oil change every 25-50 hours, depending on how hard you run the generator and how hot it is outside. Whereas, most Honda generators call for an oil change every 100hrs/6 mos., regardless of how hard you run them or the weather.
One reason for the difference is all of Honda's other generators run GX series commercial grade engines. The 2800s use one of Honda's GC series residential grade engines that come with a lesser warranty.
Bottom Line
The lesser engine, warranty, and tougher maintenance schedule are a few reasons for the price parity between the 2200 and 2800. Also, most of Honda's inverter generators are parallel capable, where the 2800s are not. That said, I like the 2800 because it provides all the power I need in one portable package.
Whichever generator you get, I hope it works as hard for you as it has for me. Please share your thoughts or questions in the comment sectio n n below. And I'll see you next time.
ToolRev earns commissions on purchases made through our links.
Products from Amazon.com
‹
›
See the Honda 2800 watt generator in action here: