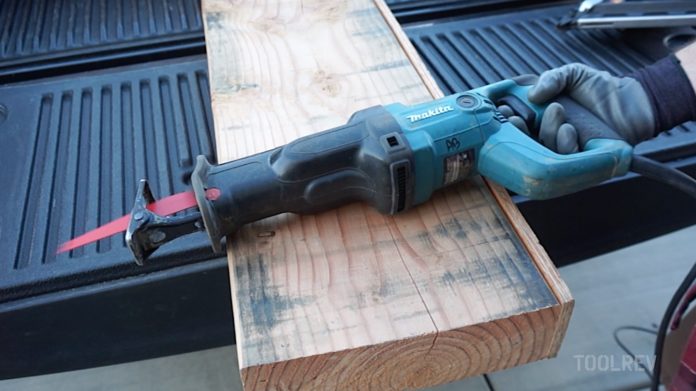 The Makita 11 amp reciprocating saw is lightweight, well balanced, and powerful. I've used and abused mine for 6 years and it still runs like new. Maybe that's why they still sell this unit at Home Depot.
To lock on, or not to lock on.
This saw comes in two versions: model JR3050T with a lock-on switch, pictured above, and model JR3050Tz with no lock-on. Neither have a lock-off safety.
Case
The case seen above (model#824734-9) came with my lock-ON version and is perfect for carrying long blades. The no lock-on version comes with a short case with no space for long blades. So one has space for long blades and the other leaves more space in your vehicle for other gear.
Blade Change
Makita's tool-less blade change system stays locked open until you drop in a blade, right side up or upside down, at which point it locks itself in. After a cut the spring loaded mechanism spits out the hot blade with a twist of the rubber overlaid chuck. There's an adjustable shoe too. Nice!
Vibration
As for vibration I'd put Makita's 11 amp on par with their 18 volt cordless unit. Both have more vibration than Makita's 36 volt cordless or their 15 amp corded AVT. That said, until I tried these larger units the 11 amp corded Makita's vibration never bothered me.
This Old Dog Still Hunts
This saw is missing some bells and whistles found on newer cordless units: no rafter hook, led light, or bluetooth. But at 7.3 lbs it's lighter than most cordless saws. It's got a lock-on option, which is great for demo work. And it's corded so, as long as the power is on, it never runs out of juice.
Products from Amazon.com
‹
›
See it in action here: