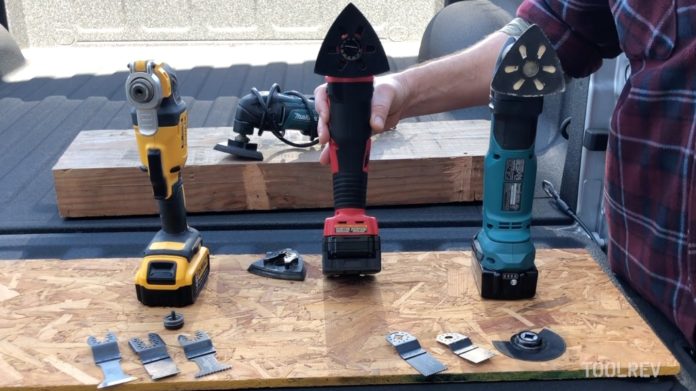 A multi-tool uses a variety of attachments in an oscillating motion for sanding, cutting, and scraping. In this DeWalt vs. Makita vs. Milwaukee multi-tool review we compare the three cordless models against a 3 amp corded Makita.

Power and Speed
Using fully charged five amp hour batteries and new carbide tips, the Milwaukee took first place in the three nail test by just a second or two.

The corded Makita was faster through 1" x 8" beveled pine by a couple of seconds over the rest. But the cordless tools were close enough to justify ditching the cord. All of the tools are extremely loud. Vibration was pretty even across the board, unless you held the DeWalt by the pistol grip, in which case it had more vibration than the others.

Size and Weight
The DeWalt and Milwaukee are similar in size, both smaller than the Makita. The DeWalt is around a pound lighter than both the Milwaukee and Makita.

Operation
The Milwaukee and Makita use an on/off switch and a variable speed dial. The dial can be set at various stages from 11-18k oscillations per minute on the Milwaukee and from 6-20k on the Makita.

The Dewalt has a variable speed trigger and no on/off switch. The trigger goes from 0-20k oscillations/minute which, when brought up to full speed, can be locked on high with the trigger itself being the release.

DeWalt has just released a new 3 speed, model DCS356B.
ToolRev earns commissions on purchases made through our links.
Accessories
The DeWalt uses universal, open end type, accessories available from DeWalt, Dremel, Rockwell, and others. All three models have a tool-less blade change: The Milwaukee and Makita use a lever and pin system, where the DeWalt uses a much faster quick release mechanism.

Oddly, the adaptor ring that comes with the DeWalt does not line up with the Makita, Milwaukee, or Bosch accessories. The Makita and Milwaukee take each other's accessories, and universal blades, with no adaptor needed.

Bottom Line
So which is the best cordless multi-tool? I think the Milwaukee has the best grip and was the easiest to control. But I prefer the DeWalt for its quick release blade change and lighter weight. The Makita's larger size, weight, and missing work light put in third place.

Whichever one you get I hope you enjoy it. Please share your thoughts and questions in the comment section below.
Products from Amazon.com
‹
›
For more information, and to see the tools in action, check out this video: