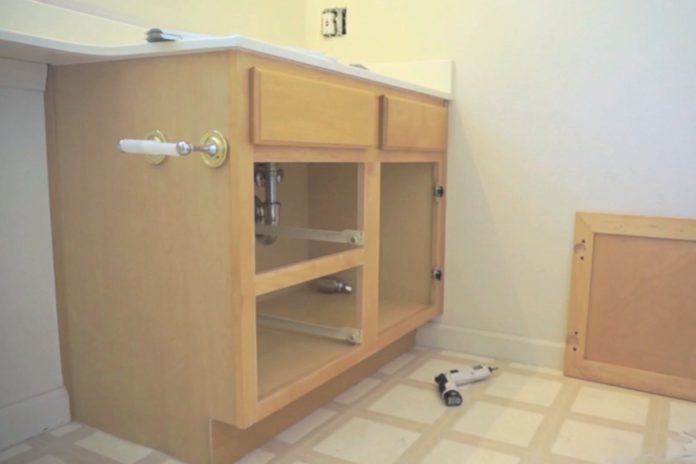 Want to know how to remove a bathroom vanity without destroying it in the process. No problem. Follow these steps to success.
1 – Shut Off the Water
Turn off the water at the wall. Turning to the right is off. For pull-tab valves, just pull to shut off the water.
2 – Remove the P-Trap
Using a 2 1/4" pliers loosen the two nuts on the P-Trap and drop it into a bucket to catch any water in the trap.
3 – Disconnect Hot and Cold Lines
Disconnect the hot and cold lines from the shut-off valves or from the faucet.
4 – Remove Silicone
Cut away the caulking from the top and bottom of the counter top and from around drop-in sinks.
5 – Remove Sink and Counter Top
For drop-in sinks remove silicone seal and gently pry up. For under-mount sinks loosen any wing-nut clips.
6 – Remove Wood Screws
This cabinet had 3 wood screws holding it to the wall. If your water shut-off valves are preventing the cabinet from coming out you have two options: cut a hole in the back of the cabinet or remove the valves.
7- Remove Vanity
Congratulations, you've done it.
To see me remove mine, and learn how to replace the water shut off valves, check out this video: